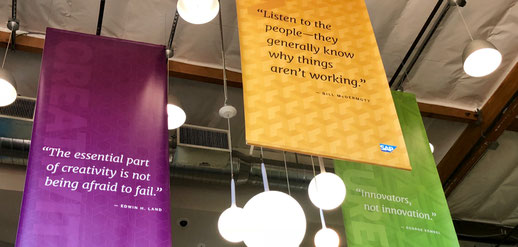 March, 2018
Singapore struck you from the first moment you arrive: Brett King and I both agreed that it is the most futuristic looking city worldwide. But is this just facade or is the future reality already? The opening session already made it clear: Simpler - Securer – Faster. This is where the new world of finance is aiming at. But where are we today?
(Part one)

Fun Facts

Nobody gets really excited about making a payment, so lets start with some fun facts:
As the slogan of this years' convention was space, one participant was elected to win a space flight, either with Virgin Galactic or Blue Origin, as costs for space flights dropped this year by 99,5 percent. Technology progress pushed down prices from USD 40 million to USD 200'000.
Ning Tang, CEO of Credit Ease pointed out, that China's FinTech ecosystem is not at the same level as Silicon Valley's because - you still have to wear suits to be accepted in China. :-)
1. FinTech is death – long live TechFin!

Jack Maa once differentiated: "Fintech takes the original financial system and improves its technology. TechFin is about rebuilding the system with technology." - Ok, it might be exaggerated to bury FinTech right now.
But Piyush Gupta, CEO DBS Group nailed it: The big challenge for FinTech is not creating a value proposition but finding the customers. In TechFin new players are attacking our value chain - with technology.
 To survive as a bank you don't have to think
about other banks but about the big tech companies.
Derek White from BBVA doubled up: A traditional bank has 200 interactions per customer per year. TechFin comes to 2'000! We all have to start thinking about BIG TECH. That allows you to detect, what is coming next, as technology is the differentiator. Tech delivers: High frequency, high volume and low value. Banks deliver: Low frequency, low volume and high value.

Those who can combine the high value of the banking interactions, with the high volume of the tech interactions, are mastering the future – be it tech companies or banks.


2. Speed up or go home!

Legacy is described as outdated but still running applications and infrastructure. But when does a system turn into legacy? After 10 or 15 years? - No way!
Madhivanan Balakrishnan, CIO & CDO of ICICI explained, that technology implemented 3 years ago, already became legacy today. That is the speed a bank has to move forward today. Chris Skinner doubled up: Ant Technlogies is in its 5th generation of technology architecture since its 15 years of existence - able to run one million TRX per second. No legacy around here. The only thing that matters is, go fast and big or go home!


 There aren't any low-hanging fruits anymore.

Most of innovation
in the financial sector is happening from outside.
Therefore you have to have plug-in capability. Collaboration is key. Five years ago the saying was "Fintech will eat banks for lunch". Now it is the same misperception with fear, instead thinking how to allow controlled collaboration. Do not stick your heads in the sand because we feel too comfortable.
Find your own space that could be applicable in your own market
Allow open architecture to be able to integrate third-party solutions
Real use cases are needed
The future is now and we do not know what will be next, so speed-up!


3. Chatting platforms

Where do people spend most time online? On chatting platforms! This is why there will be the future for banks as well. Platforms are intermediary layers, that allows financial and non-financial players to hyper-scale. Chat, social media, e-commerce, payment, lending, banking come together as from Derek White from BBVA explained. TechFins are pushing from left to right and banks try to push the other way.
 The lines between banks and chatting platforms
are blurring – everyone has to find its position within.

WeChat, Alibaba, Tencent, AliPay and Ant Financial are such omni-present TechFins. As Cheng Li, CTO of Ant Financial explains, Alipay and WeChat contribute ninety percent of all wallets in Asia - more than the number of existing bank accounts in that region. By reshaping the financial industry, they developed from web payment to mobile to QR code. Now they are working on Smile to Pay - using biometrics and IoT. Some figures given here:


The company Tencent doubled its revenue per user
Seven out of ten apps in China are Alibaba or Tencent affiliated
BBVA's reponse to this threat is in elaborating on the FinTech ecosystem:
Build: Help startups to grow (azlo, denizen, trust-u and more)
Aquire: Simple, Atom, Madiva, Holvi, Solarisbank and more
Partner: Google, Walmart, Amazon, Alipay and more
Invest: Kasisto, Hixme, Coinbase and more
 MasterCard is neither granting credits nor issuing

plastic, it provides technology for collaboration.

MasterCard found its position. The Co-President Ari Saker made clear, that Facebook messenger was powered with MasterCard technology and soon be reached with WhatsApp. The collaboration is an opportunity, as he emphasised.

Conclusion

Is the futuristic impression facade or reality already?
From my point of view we are not there yet. Singapore has yet very fragmented payment solutions. During Money20/20 five people had the task to travel from Hong Kong to Singapore. Each of them was allowed only to use cash, gold, bitcoin, mobile wallets or cards. In the end, the winner was not cards, but mobile wallets. The cards-guy did not manage to come out of Hong Kong, as for public transport or taxi cash is needed.
As said before, the future is not here yet and we do not know, what comes next. So keep your eyes open and watch out for the signals!


Part two is coming soon
Read more about my other take-aways very soon:
Smart cities, conversational AI, big data, security and lubrication.
---
November 2017
Startups operate on just one principle: "GROW AND GROW FAST"! If you stick to this rule, avoid getting bogged down or taking an early turn, then hopefully your success will soon result in the word "SOLD" embellishing your logo! Yet, your path towards this goal includes numerous gaps that need to...
June, 2017
Inspiring, collaborative, creative, evangelistic, open, innovative, emotional!, forward-looking, holistic - just like the future of the banking industry!
Let's boil these three days down to one point...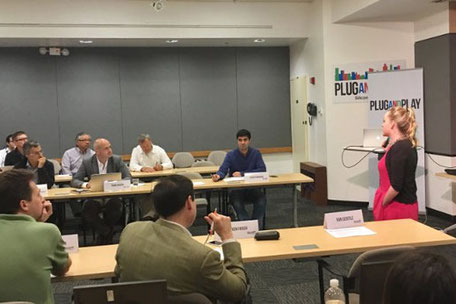 June 27, 2017
A good startup pitch is easily distinguished from a bad one. In an age in which more and more managers leave their neckties at home and seek inspiration from the "young savages", it is important to know what to look for in startups. It's about "Simplicity" - five simple questions that need to be answered...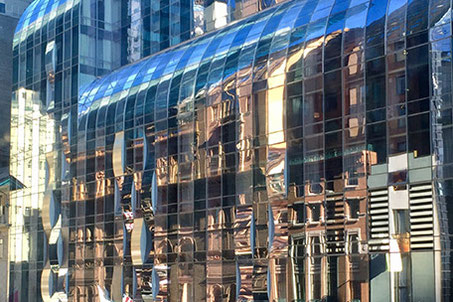 April 4, 2017
If Fintech was merely about «financial» or «technology», we would likely be close to a bubble. Not a day goes by on which the media doesn't report on Fintech...
---